So, after all the hype around it, Tally Prime is finally here! You are upgrading your existing Tally ERP 9 to Tally Prime or have just bought a new Tally Prime license. This post is a step-by-step guide on how to do your Tally Prime installation.
Before we begin the actual installation, it is very important to note that Tally Prime does not support 32-bit operating systems. In case your computer has a 32-bit OS, you first have to upgrade it to a 64-bit OS before installing Tally Prime. First of all, you need to download the Tally Prime installer.
If you are upgrading from Tally ERP 9 to Tally Prime, you should first surrender your Tally ERP 9 license. Now execute the installer that you just downloaded. The setup manager will start. If you are already having Tally ERP 9 installed, you will see two options as below. You can choose to upgrade the existing Tally ERP 9 installation or install in a fresh directory. For now, we would recommend keeping the earlier Tally installation as it is and make a clean install. A valid TSS is mandatory to upgrade your Tally ERP 9 to Tally Prime. In case it has expired, you can quickly renew it here.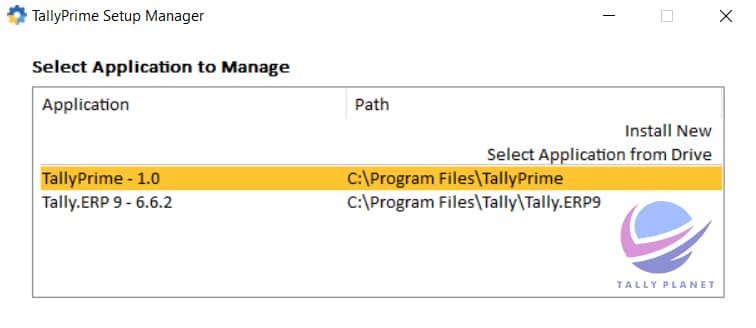 If you already have multiple installations and they are not showing up in the list, you could select manually as the screen below. Else you could skip this step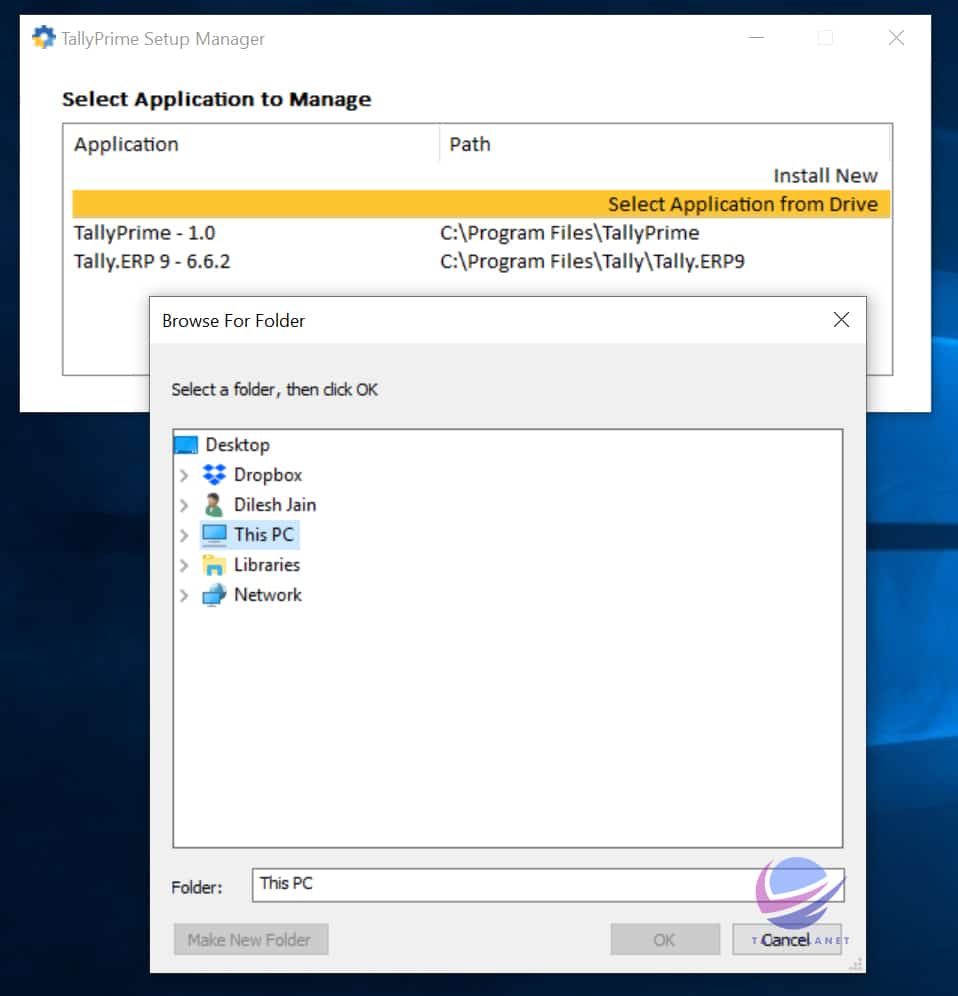 After selecting your location in the earlier step and if you are doing a clean install, then you have to click on I: Install as shown below.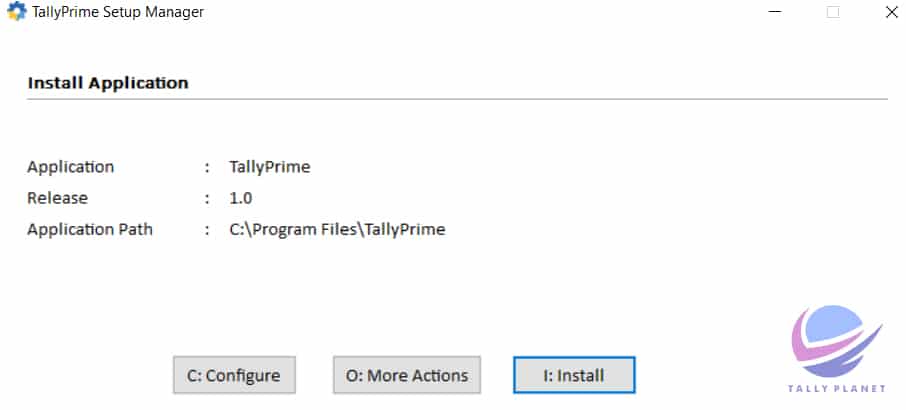 Alternatively, in case you choose to upgrade an existing Tally ERP 9 or Tally Prime installation, you have to click on I: Update as shown below.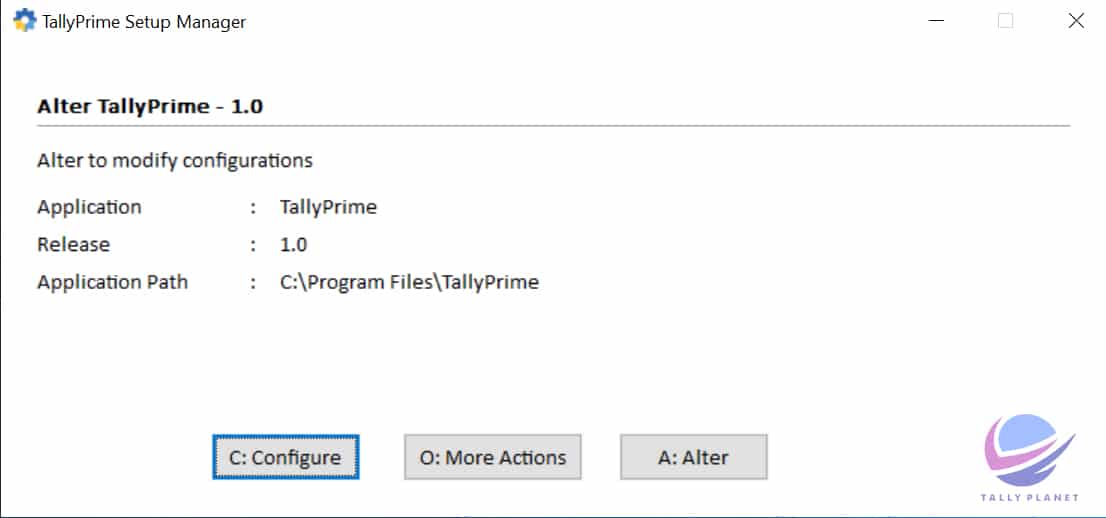 There are many options that can be set using the C: Configure and O: More Actions buttons. These are in case you wish to configure advanced options only, and most users can choose to ignore them. If you want to see the screenshots of the various options available, you can see them here.
The installation will now begin. Once complete, you will see the below screen.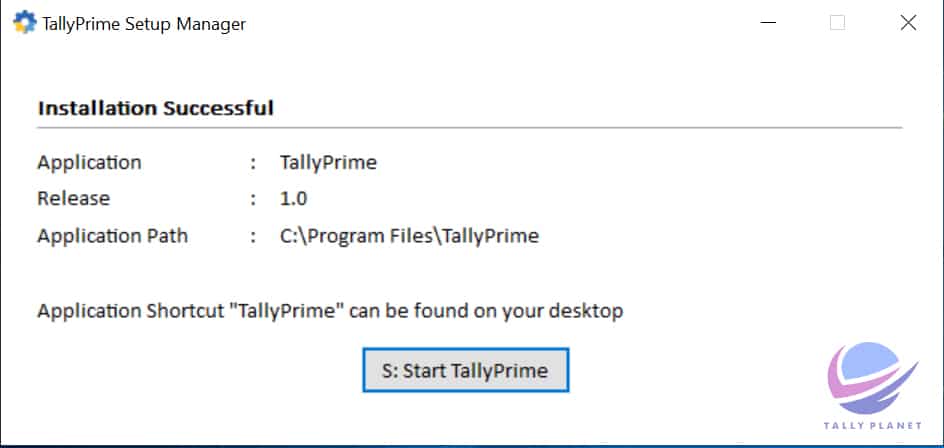 That is it! Tally Prime is now installed in your computer and will start with the startup screen as below. You have to now activate your copy of Tally Prime.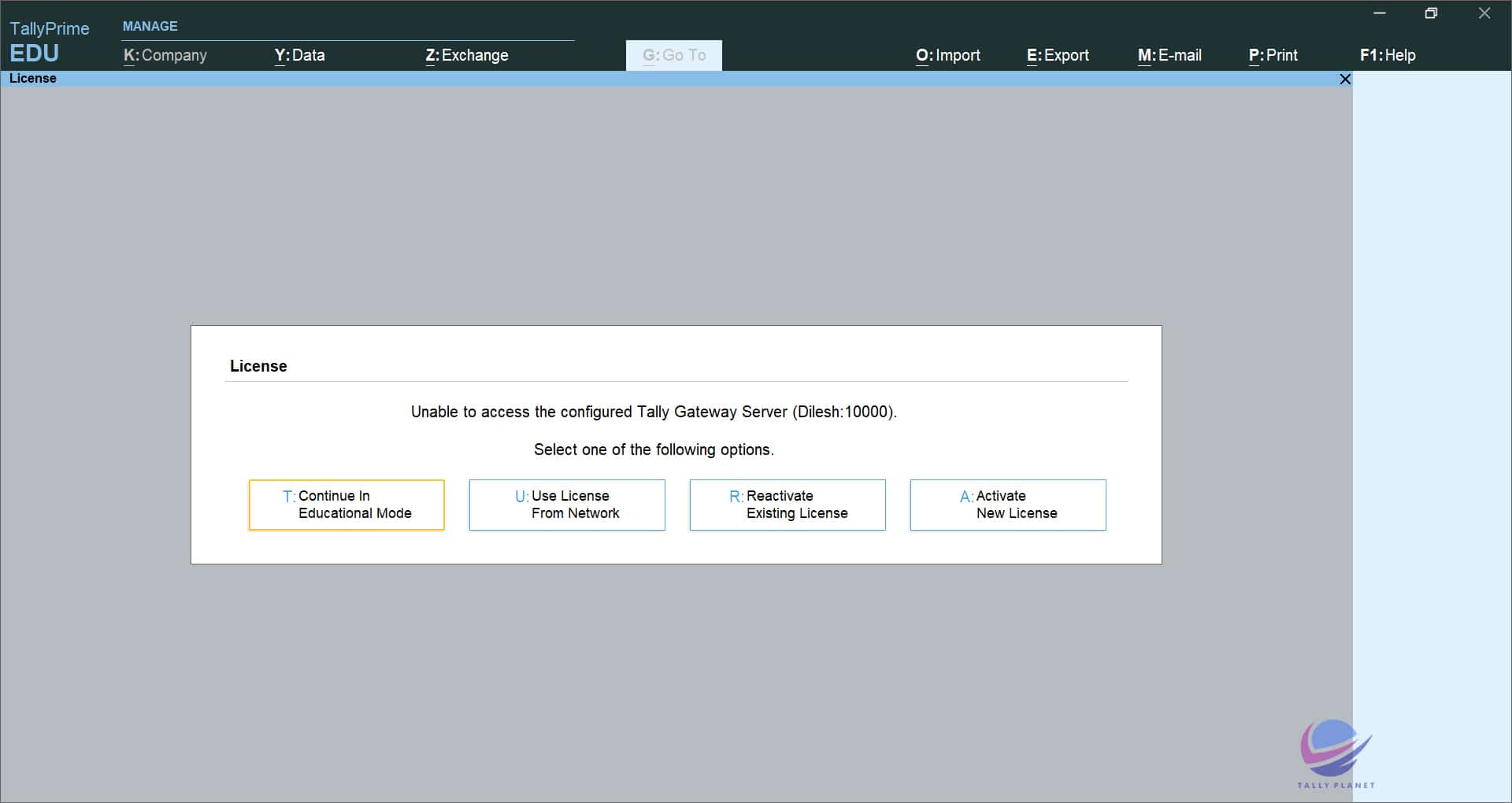 Depending on your requirements, you could choose any of the following:
T: Continue In Educational Mode: Select this if you are simply trying out the new features without actually using a proper license. This could also be used if you are only going to view data or are a Tally Remote User
U: Use license From Network: This option is to be selected if you have a multiuser license and will use this installation as a client that will take license over the network
R: Reactivate Existing License: This needs to be selected if you are activating your existing single-user license or this installation is on your Tally Server computer and will be used to serve Tally license to other Tally clients across the LAN.
A: Activate New License: This is only to be used when activating a new license for the first time. After that, always, you need to select the option to R: Reactivate Existing License
For the purpose of this guide, we are going to consider reactivation of an existing license. When you select to reactivate your license, you will get a message as shown below.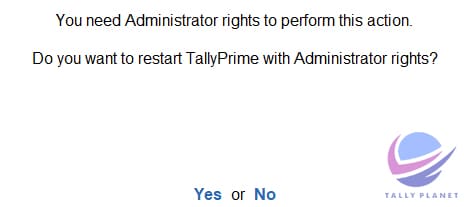 You have to select Yes and proceed. There will be another confirmation from windows asking if you are sure. There also you have to select Yes.

Next you will see the above show Tally Reactivation screen. You have to enter your Tally.Dot Net ID and password and press Enter. In case you have forgotten or misplaced your password, you can click on R: Reset Password on the button bar to the right. You have to enter your Tally.Dot Net ID and you will get a password reset link in your mail. Enter the new password here and your done.

A few seconds after entering your Tally.Dot Net ID and password and pressing Enter, you will see the above message which indicates that your license is successfully activated.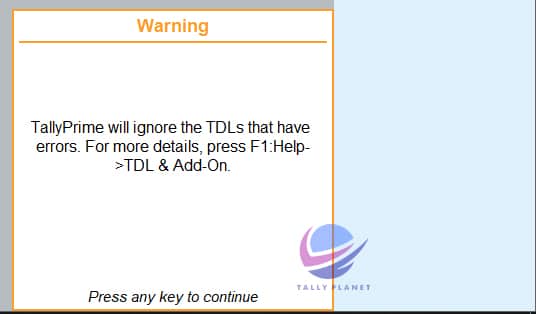 The above message appears on the bottom right-hand side of the screen only in case you are using some customized modules and that too if they are not compatible with Tally Prime. You will have to use Tally without those TDLs till such time that your vendor does not make them compatible with Tally Prime. Your activation process is now complete.

Next, you have to migrate your Tally ERP 9 data to Tally Prime. It is very very important to first take a backup of your data before migration. You need to migrate all your required companies one by one. Also, noteworthy is that Tally Prime data will not open in Tally ERP 9.

The above screen has shown the options available during the migration. They are self-explanatory. Next, the migration process will start. In the end, after the company migration is complete, you will get a state name change notification as shown below which is for information.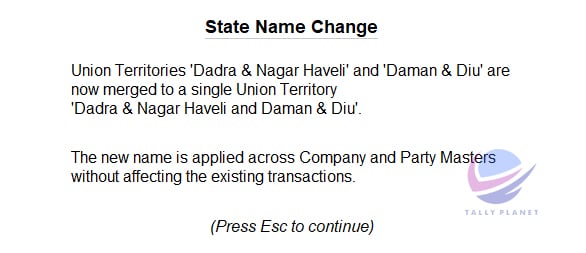 You have now successfully completed the entire process of installation and activation of Tally Prime followed by data migration from Tally ERP 9 to Tally Prime.
Congratulations. You are now Tally Prime ready! This is a small and simple process which should not take more than a few minutes for most users. Data migration might take a while for some companies having significant data volume. Do let us know your experiences with data migration and your experience with Tally Prime in the comments below. You can also contact us in case you require any more information or send us a message via WhatsApp by clicking here.